Where to find Don's Song by Lyndon Delano Moss
I thought that I'd post some of the online links to Don's Song by Lyndon Delano Moss These links are submissions done through our the highly recommended music distribution company that we use.
In my opinion, it is very important for artists to use a music distribution platform to showcase their music to the world. This can be done independently and at a low cost.
Go to this link to see the service that we used to submit Don's Song by Lyndon Delano Moss to over 150 music outlets online.
The story behind Don's Song by Lyndon Delano Moss
Don's Song by Lyndon Delano Moss is a guitar composition written eighteen years ago. The melody came to the composer as he taught his son Don to walk to a four-four musical rhythm.
An accomplished guitarist, Lyndon Moss intuitively integrated his knowledge of music into a real-life situation. As Don teetered on his little legs, the music rhythm strengthened his ability to walk smoothly.
Feelings of joyfulness, lightheartedness, and happy movement are evoked in me whenever I hear the melody of Don's Song by Lyndon Delano Moss. I do believe that this attests to its healing properties, for want of better words.

Scientists have discovered that walking is strengthened when persons hear strong musical beats
Interestingly, scientists have been studying the link between musical rhythm and movement. Termed rhythmic auditory stimulation the science has found its way into the treatment of people with movement disorders.
According to igi-global.com (2019) Rhythmic auditory stimulation is a
technique by which a series of auditory stimuli are presented at a fixed rhythm so that patients have to synchronize their movements to the rhythms
Dr. Jessica Grahn is one of the leading scientists in the field of rhythmic auditory stimulation. She found that the auditory cortex or listening area of the brain becomes stimulated when music is heard.
When rhythm is played, the motor or movement areas in the brain respond strongly to musical rhythm. In other words, rhythm is linked to movement. The researchers have since used this important information to help people with movement problems.
Astonishing but true, Dr. Grahn's scientific research found that simple rhythms help initiate movement for those with mobility issues. Her MRI studies of the brain show that When individuals are exposed to music, movement areas in the brain light up.
A 7 Tesla MRI machine was used to capture the brain's response to movement. This machine produces extremely high-resolution images in comparison to the standard three Tesla MRI machines.
Music is played to the patient when he or she is under the MRI machine. During that time, he or she is asked to mentally note when one of the patterns doesn't match. The brain wave patterns were then studied after the test was done.
One of the first tasks is to listen to classical music. During this activity, the auditory cortex becomes active. However, the movement cortex exhibited a higher degree of activity when rhythm was played (TedX Talk, 2013).
The effects of music on movement can be very powerful
Researchers continue to build on Dr. Grahn's research findings that music can motivate persons with movement disorders to move. She used the information to stimulate movement in patients with Parkinson's disease.
I did some hunting and will briefly summarize a few of the other important scientific results in the field of Rhythmic Auditory Stimulation:
Japanese researchers develop WalkMate System for improving quality of life of Parkinson's patients
Japanese researchers at the Tokyo Institute of Technology have developed an intervention that may improve mobility, stability, and quality of life of patients with Parkinson's disease. The beauty of the walking support device is that it is innovative, non-invasive, and therapeutic.
To come up with the intervention, researcher Yoshihiro Miyake compared walking processes between a walking robot and a walking person. The study included people with a healthy gait and people suffering from Parkinson's disease or hemiplegia due to brain infarction.
Miyake used the timing of the walking person as a sensory input for the robot (Walk Mate) and the sound of a walking rhythm as the robot's output. The timing between the robot's input and output was synchronized by an algorithm of traveling wave dynamics.
The study discovered that people with movement disorders actually adjust their pace in response to the robot's audible output. Patients' stride patterns were healthier when using 'Walk Mate.' They also reported greater stability and a "sense of togetherness" compared with more traditional walking aids that have a fixed rhythm (Science Daily, 2012).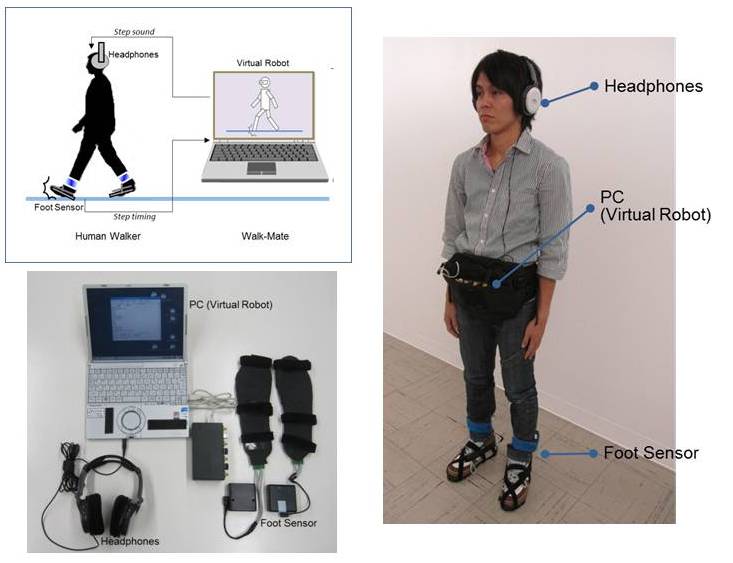 Rhythm of life: Music shows potential in stroke rehabilitation
(Science Daily, 2010)
A 2010 Cochrane Systematic Review discovered that music therapy provided by trained music therapists may help to improve movement in stroke patients. Coupled with a few small trials, these results have implications for recovery from brain injury.
Music therapists are trained in techniques including
rhythmic auditory stimulation
which activates movement in the brains of patients with strokes and other movement disorders. Therapists use the music of a particular tempo to stimulate movement in the patient.
The review examined results from seven small research studies in which 184 were involved. Four of these studies focused specifically on stroke patients. Three of these seven used
rhythmic auditory stimulation
as the treatment technique.
The
rhythmic auditory stimulation
therapy improved walking speed by an average of 14 meters per minute compared to standard movement therapy. It also helped patients take
longer
steps. In another study, trial, rhythmic auditory stimulation also improved arm movements.
Joke Bradt, Lead researcher in the review summarized the findings:
"This review shows encouraging results for the effects of music therapy in stroke patients … as most of the studies we looked at used rhythm-based methods, we suggest that rhythm may be a primary factor in music therapy approaches to treating stroke."
Maybe music therapy might be most effective if it is commenced during the stroke

.
The list below constitutes a few online submissions for Don's Song by Lyndon Delano Moss
Go here to register for information on how you can easily start your own independent record label. even if you are a solo band or artist.
distrokid.com/hyperfollow/lyndondelanomoss/gmGp
https://music.amazon.in/artists/B07MVFPWFJ/lyndon-delano-moss?force=true
https://www.amazon.com›Dons-Song-Lyndon-Delano-Moss
https://play.anghami.com/song/45892958
https://www.amazon.co.jp/Dons-Song-Lyndon-Delano-Moss/dp/B07MVKX4WT
https://open.spotify.com›track
music.apple.com/us/artist/lyndon-delano-moss/.
https://www.last.fm/music/Lyndon+Delano+Moss/Don%27s+Song
https://tidal.com/browse/album/102530062
https://www.iheart.com/artist/lyndon-delano-moss-32737431/
https://www.jiosaavn.com/album/dons-song/12UHeFUkN4U_
https://music.amazon.com.au/albums/B07MVLSXKL
https://central.ink/qn6lr/neo17.php?fp=shoestring-song
https://dearbornmusic.net/Artist/8046836/Lyndon-Delano-Moss